Cointiply Bitcoin Rewards
This amazing website provides you with a lot of different ways to earn free crypto.
You can earn free crypto by watching ads, play games, fill out surveys or watch video's.
Every hour you can play a round on faucet to win some extra coins. There is a pool you can join that will provide you with a share once it is full so you get extra rewards instantly.
My experience so far
I have used the platform for two months now and i have received all my payouts within a couple of days. You can make a choice to receive either Bitcoin, LTC, Doge or DASH in your wallet of choice.
There are no fees for the payouts, it's just a little slow but has never failed me.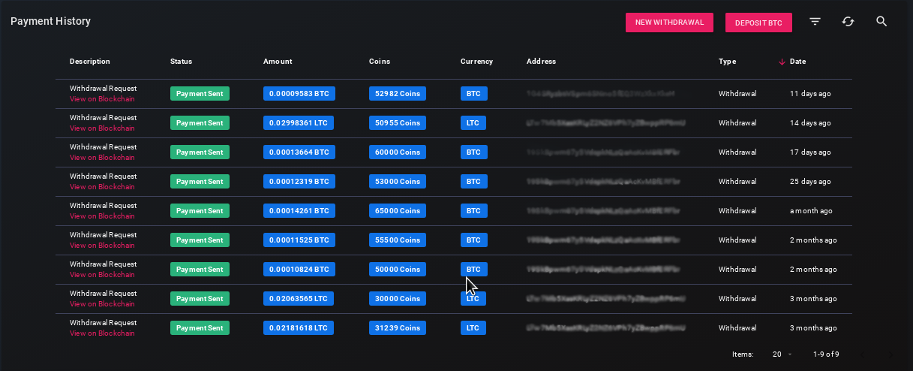 There are instruction pages to help you get started. There are always people in the chat to share some experiences with or ask questions after you read the manual.
When you have setup you can start earning by picking offers from the Offer Wall or select PTC Adds, Surveys or any other topic from the Menu. Installing mobile apps and reaching levels in games pays off quite well, i would suggest to use an extra phone for this as this is still the Internet.
Using Brave browser you keep free from popup adds while not being blocked at survey sites.
Surveys
Surveys are one of the best paying methods to earn on the platform. After providing some profile questions you get linked to surveys that match your profile. You get a lot of questions also on personal status and perhaps income. Remain honest and consistent in your answers, if you want to remain more anonymous then make up a persona.
A good survey will pay you around 10000 points which is fixed to $1 This might take 20 minutes at first. Once you get familiar with the surveys, many are identical in menu, you get through them a bit quicker.
The surveys come from portals and are also used by other platforms like Idle-Empire and often you will get the same ones on both platforms.
Some of them are interactive and ask you perform a simulation of you picking a beer in a shop or let you pick colors for a design of a product. You review your online actions and share your thoughts on cat food or opinions on car tires.
Sometimes you do not match on a profile but you still get a small amount of coins for taking your time. Other times you get in an annoying loop when you do not match any profile or pools are exhausted. Generally people living in Europe and the US get more surveys offered as location is part of your profile.
5% Interest
When you leave a minimal of 35000 coins in the platform you will also get a interest of 5% yearly but it pays out every week. So i usually keep this amount as a base and do payouts when i reach the amount i like which is often around 85000. You could just deposit an amount of money here and let it earn more than your bank will pay.
Loyalty Bonus
If you are a loyal participant and come back everyday you will build up a bonus percentage up to 100%. Each time you roll the wheel at the faucet you will get the bonus based on your percentage.
Promo codes
There are often promocodes to be found on the Cointiply twitter account to help you making some extra money.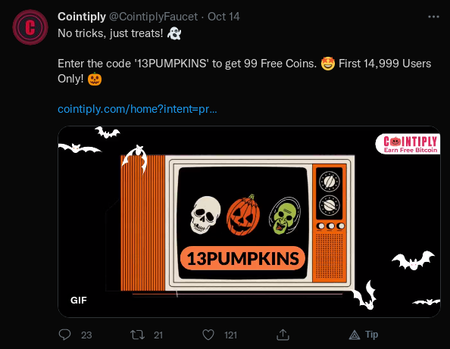 Rain Pool
Be sure to hit the 'Join the Rain Pool' at the chat before you start a survey. Your contribution will also be reflected in the rain pool and you will get your part of the share you have contributed when it pays out. About every 45 minutes you will get some extra coins.
Take a gamble
If you feel for some adventure you can try to multiply your coins at the Coin Multiplier.
Join me on Cointiply

Use my signup link : http://cointiply.com/r/4XmMn
Tips and Tricks
Provided you have already setup your wallet setup in Coinbase you can receive your payments already.
Use the Brave Browser to double your good work as you get paid just by browsing the internet!

Get Started
Do not use a VPN as this might cause survey sites to block you.
Weekdays often are better for surveys, in the weekend the survey pools get exhausted.
Keeping your coins in Cointiply until the crypto market drops might be a smart thing to do, buy the dip!
Be honest and consistent in your answers to surveys, these sites often create a profile when you first use them.
If you want to do the mobile offers, get a phone or tablet you can dedicate to this purpose.
Payouts from withdrawals can take a couple of days but have never failed for me, be patient.
Mails for confirmation of your withdrawal will arrive in your mailbox, be sure to check them.
Reach out to other people to help them out getting started. Your referral also provides some extra coins as a bonus.